not a ford, eventough it has a ford engine, mx3 v6 turbo
15-05-2012, 08:39 PM
Virgin
Join Date: Mar 2012
Location: sappemeer
Posts: 5
Thanks: 0
Thanked 0 Times in 0 Posts
not a ford, eventough it has a ford engine, mx3 v6 turbo
---
hi, i'm marijn i'm now 18 years old and live in groningen, the netherlands.
since 2 years i'm busy with a mate to swap my mx3 1.8 v6 into a 2.5 v6 turbo.
with around 350 bhp. and a brutal looking body.
this is how she looked 2 years ago:
lifted the car up and pulled out he engine(on the driveway)
new headgasket, timing belt, silicone vacuum hoses,cleaned up the engine and painted it
me and the rebuilded engine
then painted a few interior and exterior parts just for fun
then we had the idea that we can make the bonnet vents all by ourself
even as the thought that we could chrome some parts by ourself, the copper came out very nice but the chrome didn't stick
then stripped the rear
then put the engine back in, and it was running like it was a new one :P
then a horse leaned against the side of the car and it was full of bumps
and we discovered more and more rust so we decided to buy another mx3
so here she is the new one:
the clutch was dead of this one so, out with the engine and in with the rebuilded one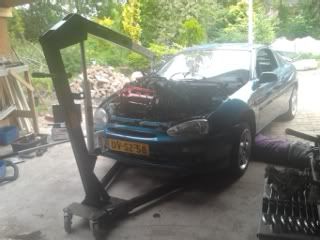 new front bumper came in so how does it looks on a beetle:
but now back to work: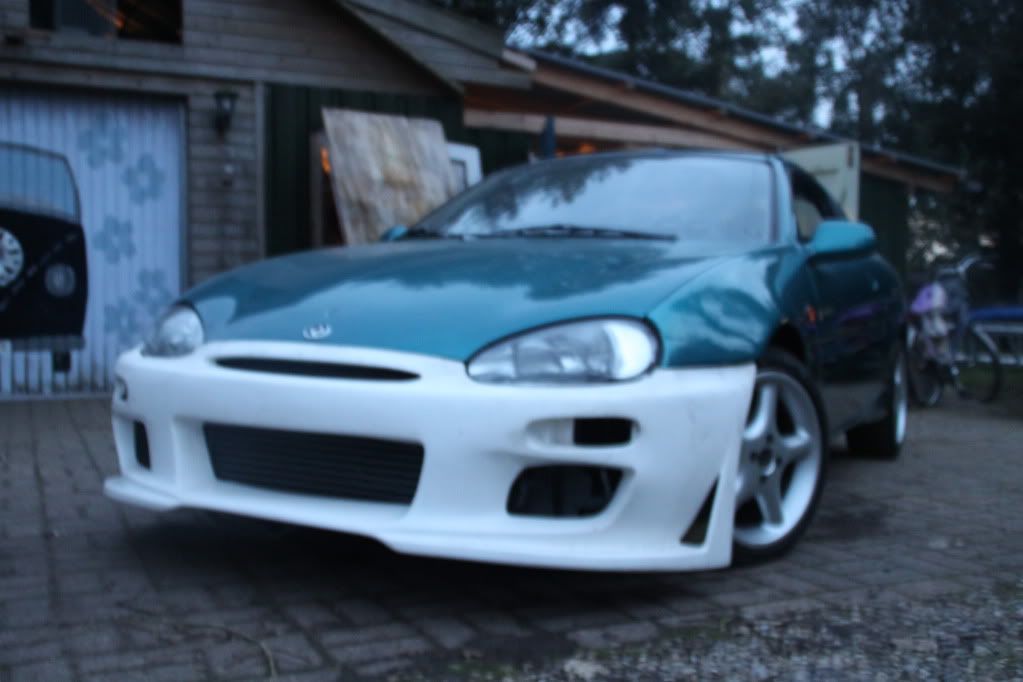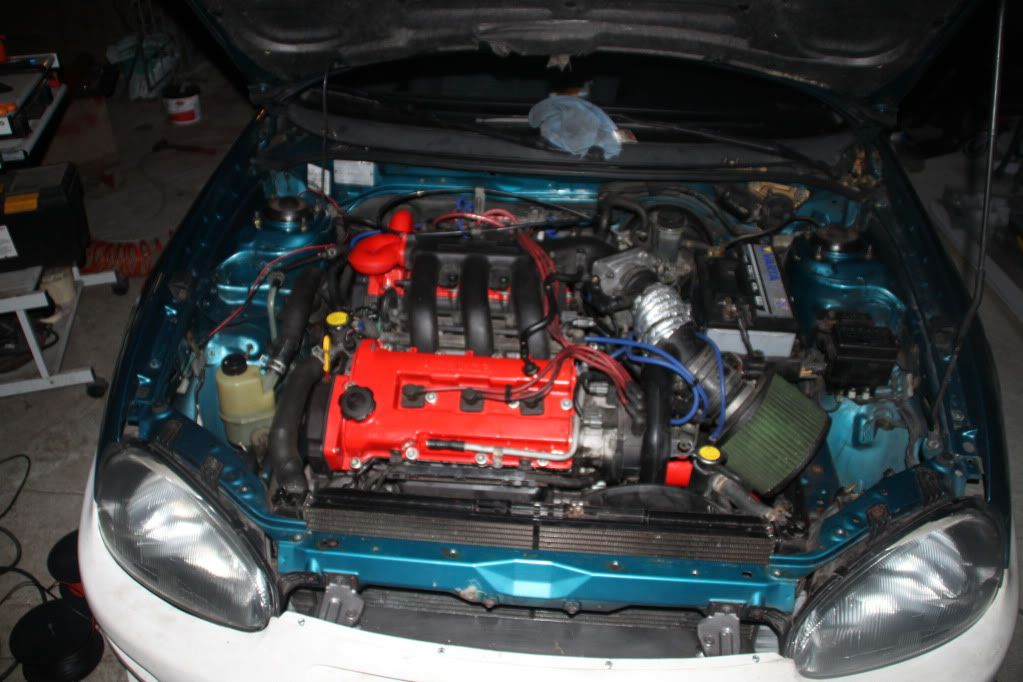 plasma gauges and made the blinkers in the dash orange instead of the green ones:
then ordered a second hand intercooler from an 200sx to mock up on the mx3:
and a mocal oil coiler (on the right)
new rear lights
second hand rear bumper(pakfeifer)
and then the turbokit arrived:P
but nothing fitted
so out with the grinder and welder
mocked up all the inlet tubes
all welded:
other pics of the installation of the kit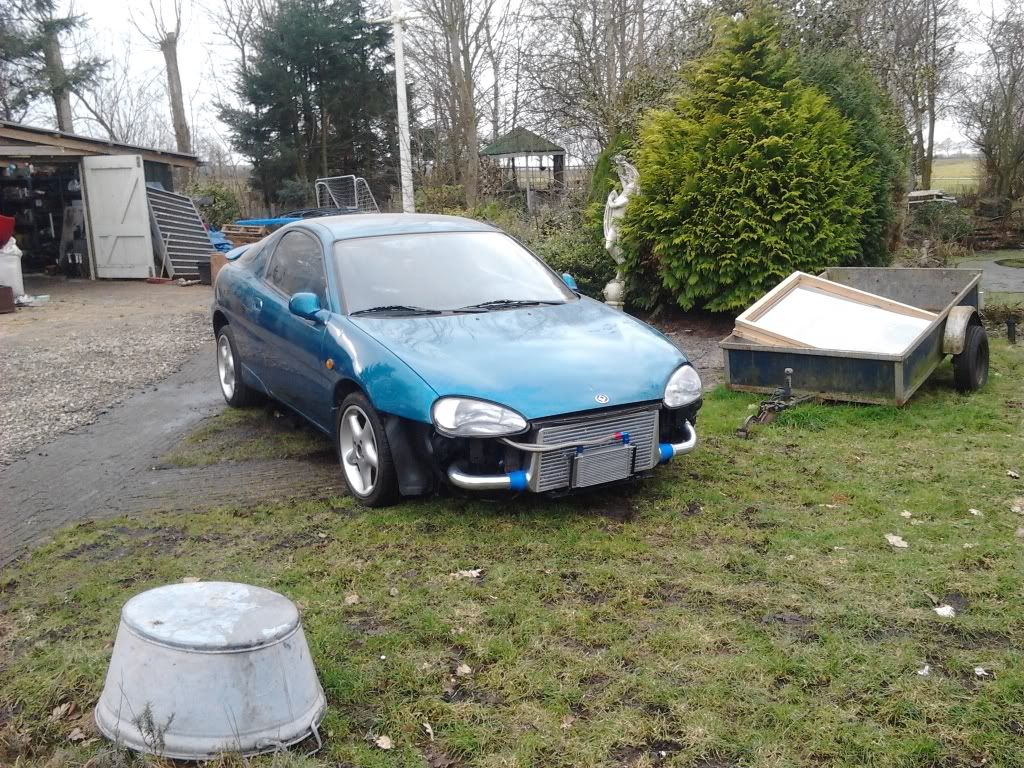 then cut out the spare tire box
'
welded in 1mm plate off steel with in it a nice battery tray, and began on the rollcage
other pics of the build of the cage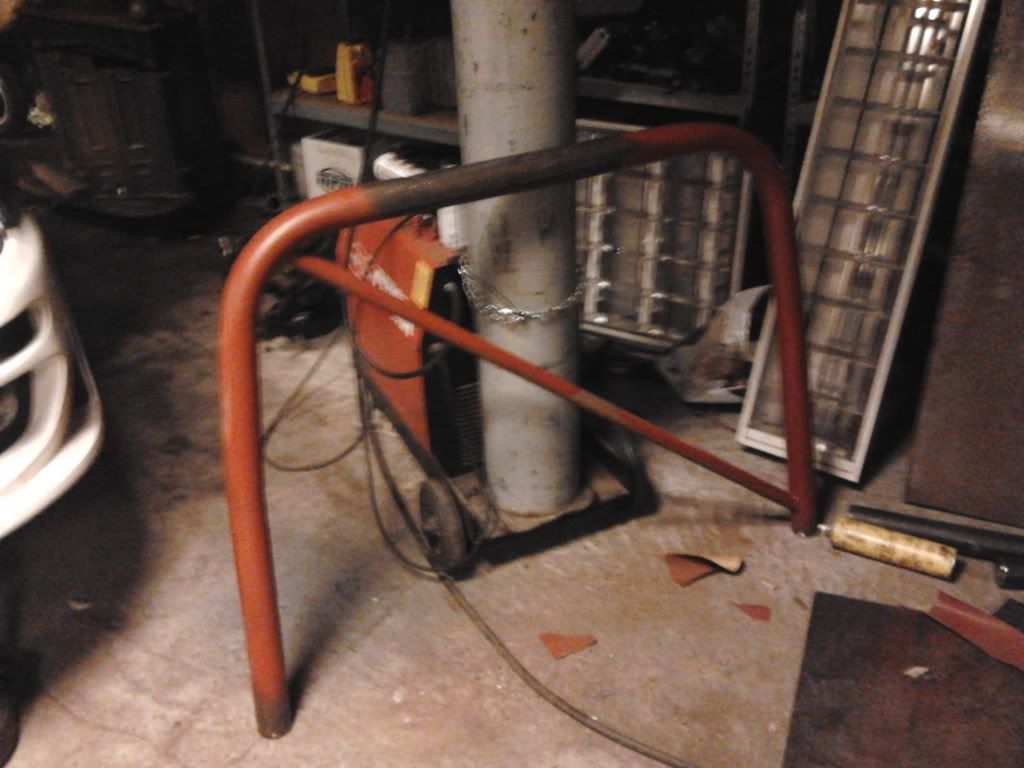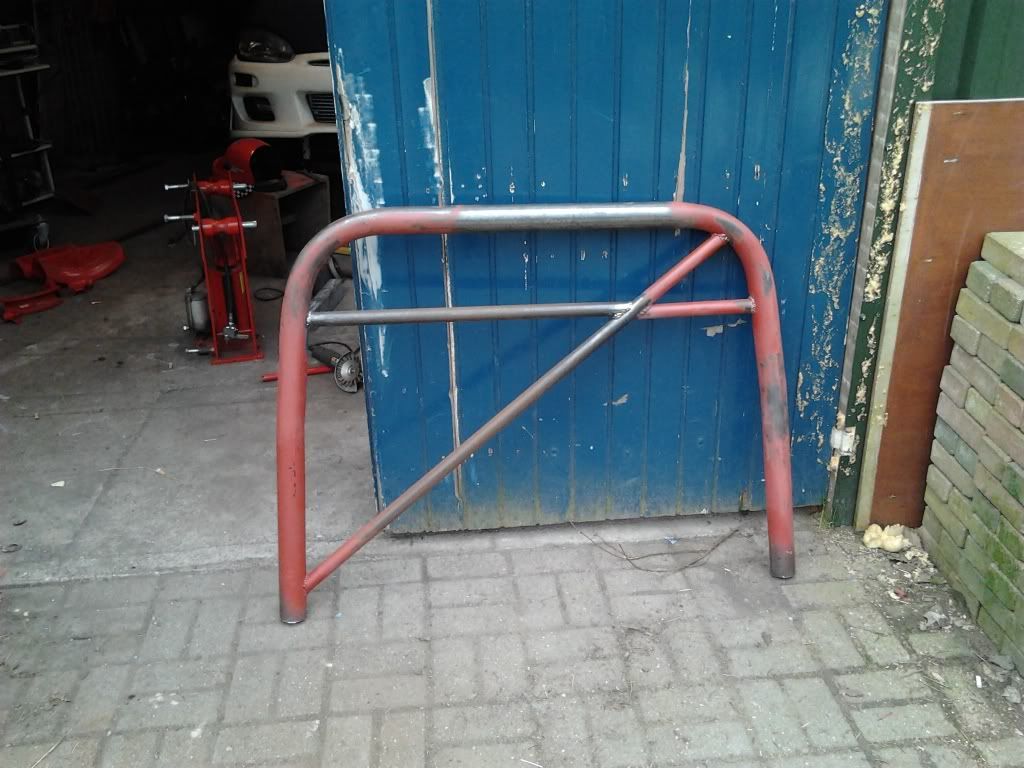 windscreen washer reservoir behind passenger seat(more space in the engine bay)
made up a new strutbar from 2 originals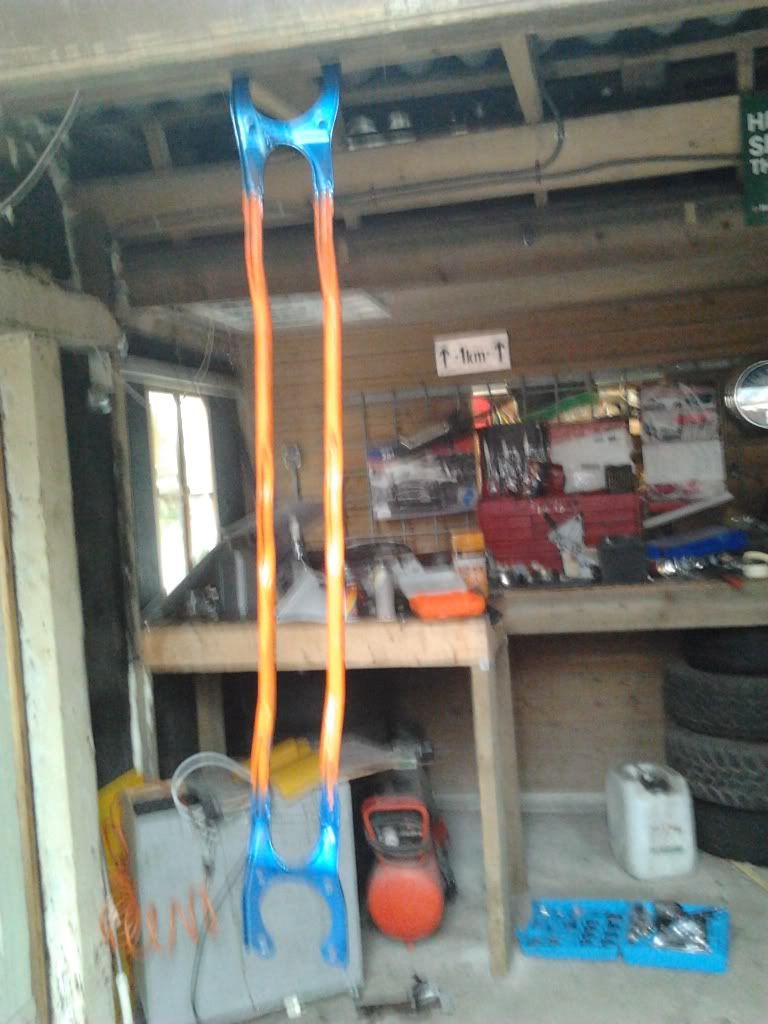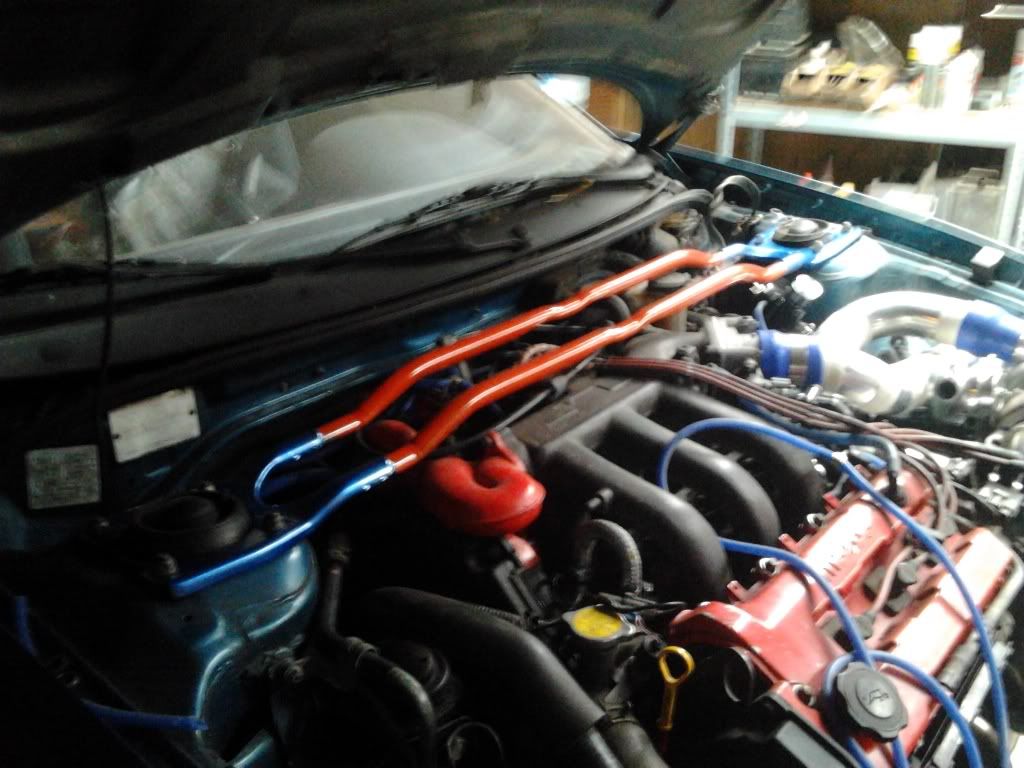 built up an pillar mount with oil pressure,oil temperature and turbo pressure gauges
built in tacho meter with shift light
new radio, starter control panel and other switches for coolingfan and others
removed antenna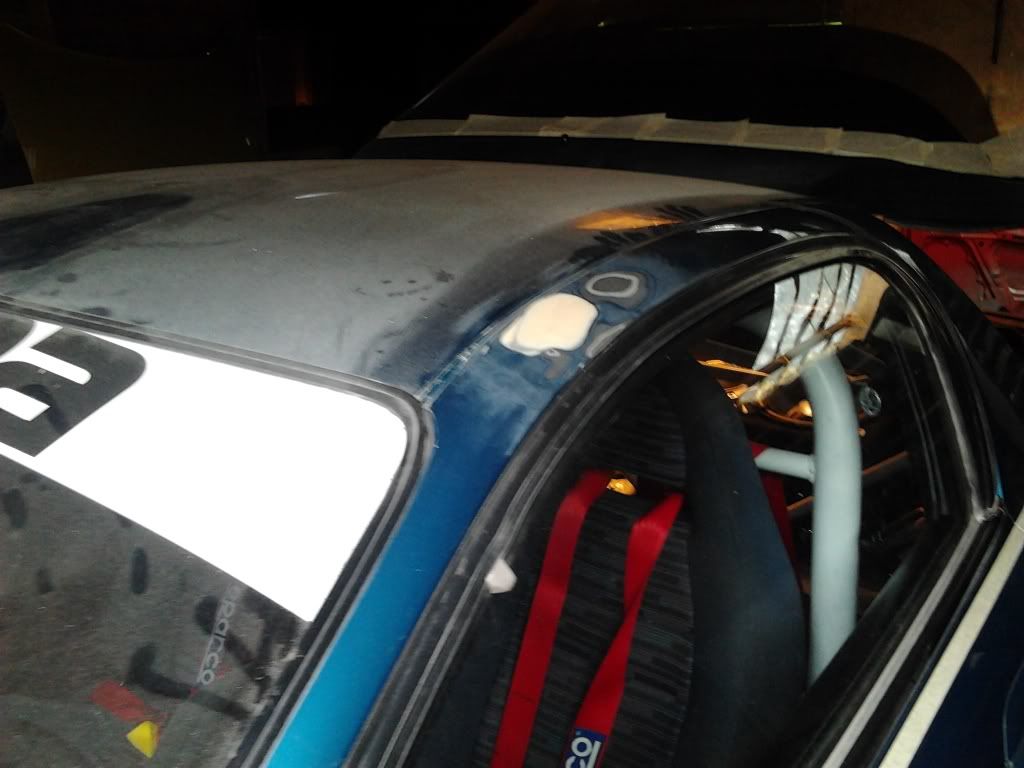 installed double cooling fans
other engine came in... klze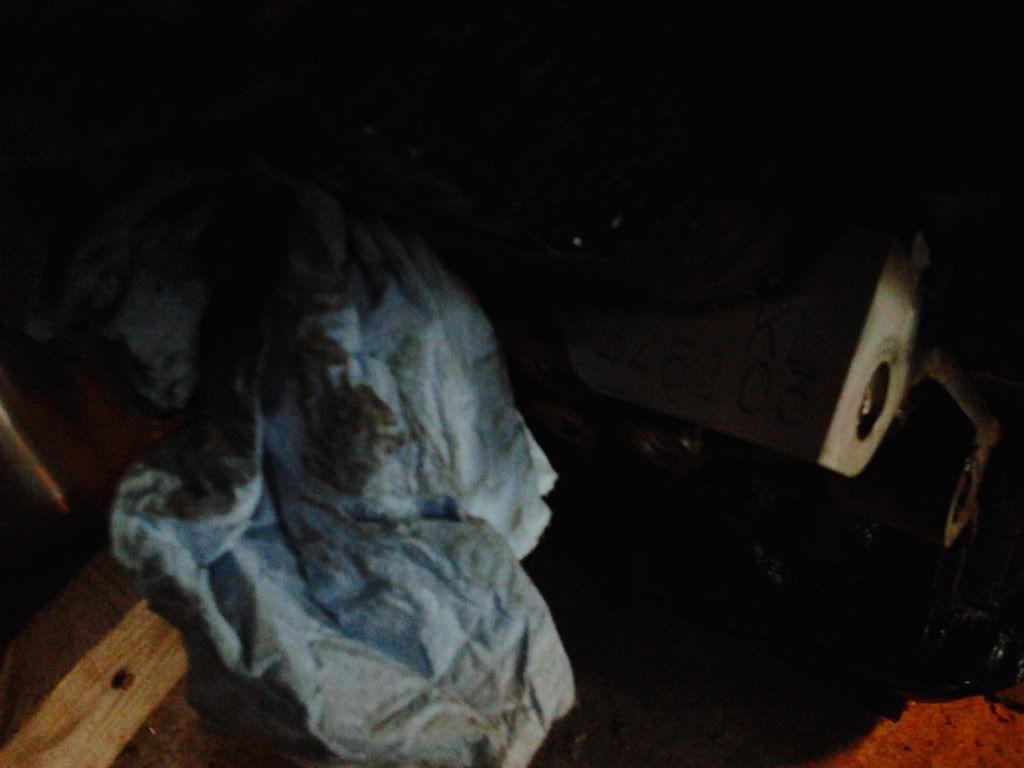 engine is running
standing with my mate's miata
and have an new mazda but this one is for sale... xedos 9
made some new leather seats for my mate's miata
and with 4 point harness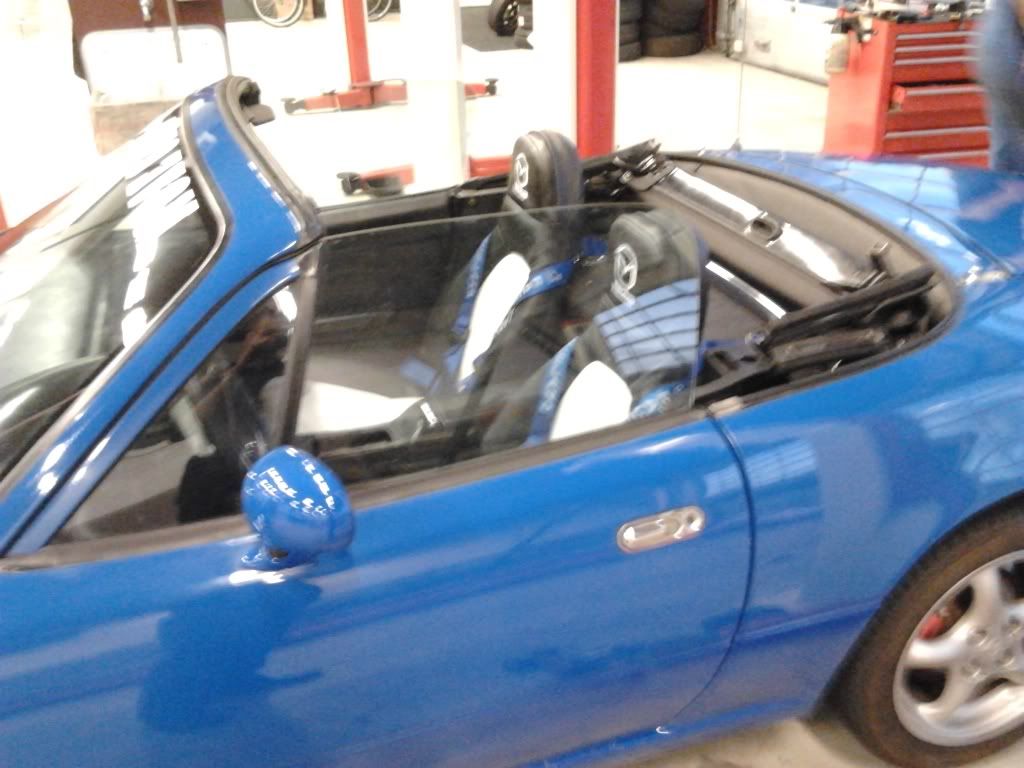 installed hoodpins and some hood lifters(old ones from the trunk of an mx3)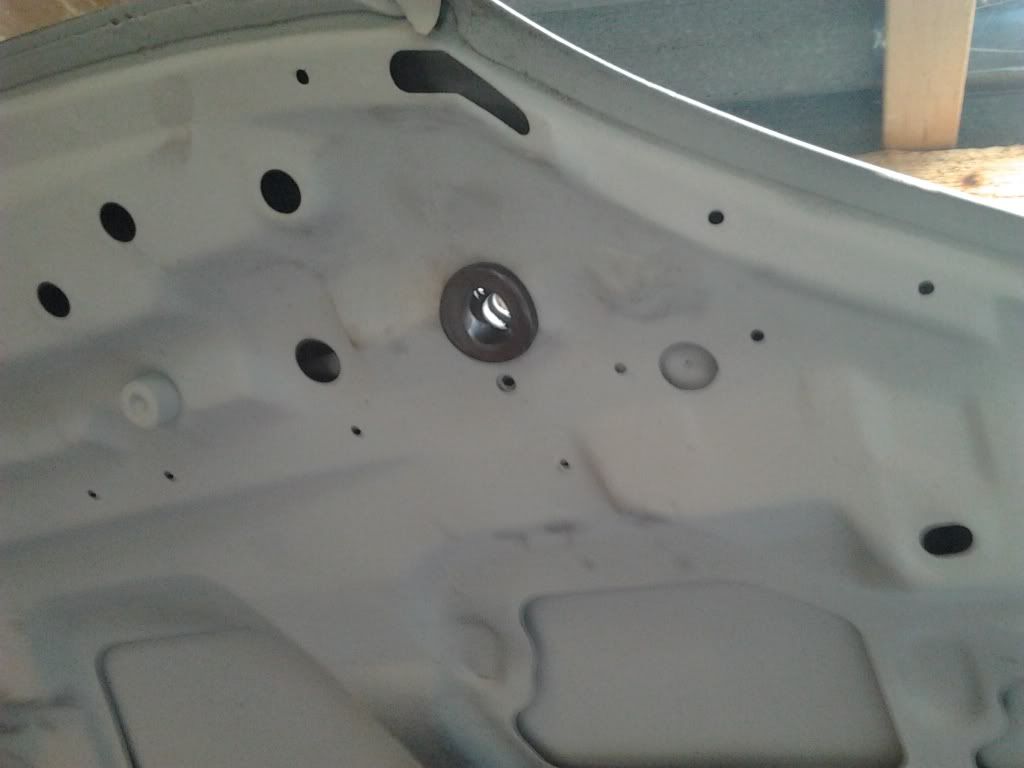 build the oil return line from the turbo on the oil pan: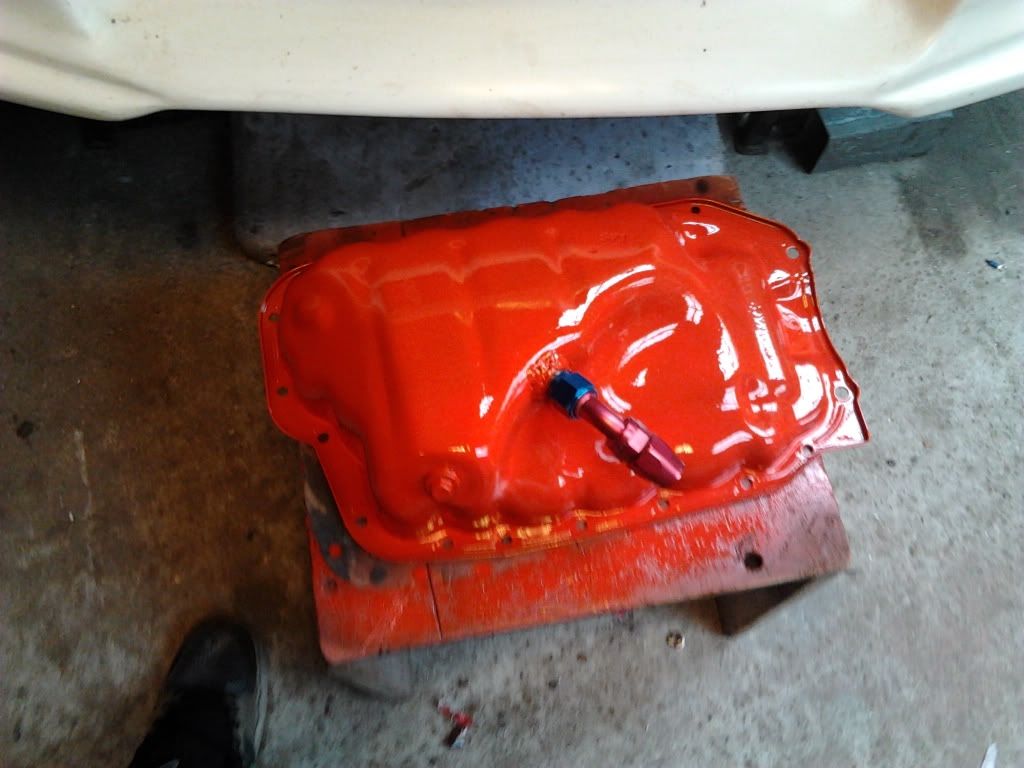 new 336cc injectors,powdercoated rails with an-fittings
installed the sparco 4 points and fire extinquisher
build in an racing tow strap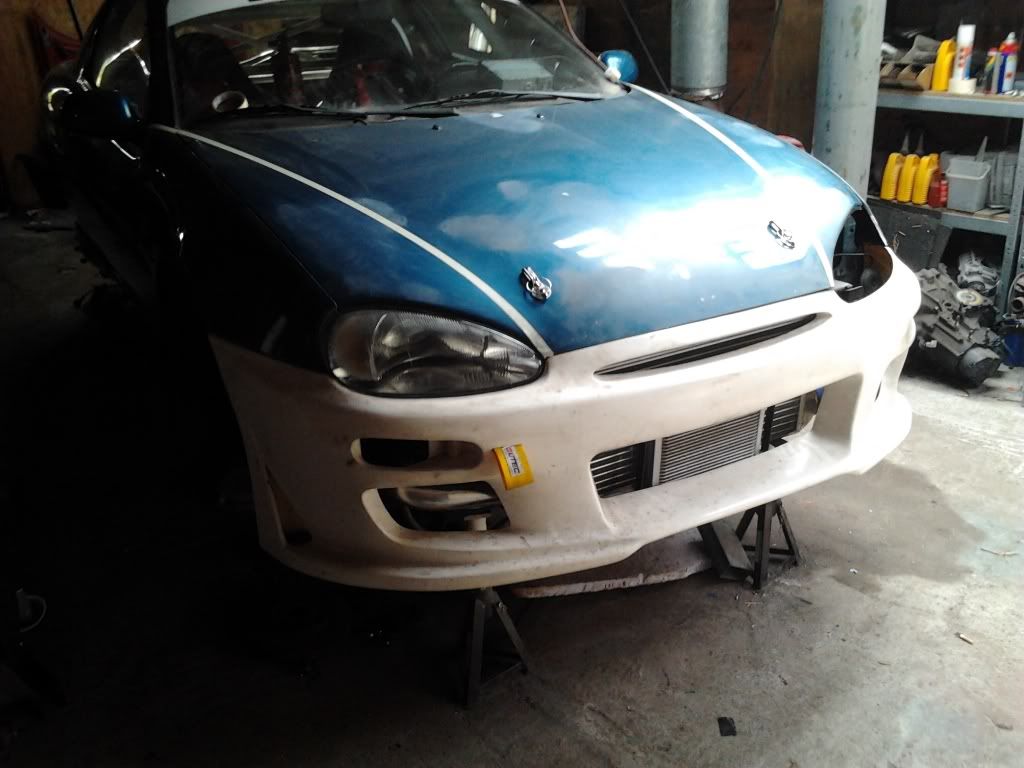 sunstrip
so this is it for now we're moving on within a month we want it painted and we're waiting on side-skirts and a sparco fuel filler cap witch will be place in the b pillar, furder we have an standalone ecu but needs to be wired
a long long way to go,
15-05-2012, 09:45 PM
PassionFord Post Whore!!
Join Date: Jun 2005
Location: reading
Posts: 3,962
Thanks: 0
---
Looks good. How have you lowered the compression ?

Also, oil return needs to be above the oil level, how you have it wont work, it will blow the seals in the turbo.
15-05-2012, 10:27 PM
Virgin
Join Date: Mar 2012
Location: sappemeer
Posts: 5
Thanks: 0
Thanked 0 Times in 0 Posts
---
with this engine we are doing nothing with the compression, just running on 0,5 bar pressure the 2.5 v6 will have an compression from 1:8.5 and we will do that with other pistons.
thanks for the tip about return line, will fix that.
18-05-2012, 08:11 PM
Virgin
Join Date: Mar 2012
Location: sappemeer
Posts: 5
Thanks: 0
Thanked 0 Times in 0 Posts
update 18-05
---
did some purchases and started with a new project
mitsubishi colt 1.6 needs a turbo.
but the oil return line was to low placed and the waterpump was leaking and we will repaint the car so we will pull out the engine again :P
last time my mate did it he did it within 2 hours
so here are some pics:
bmw z4 exhaust damper(stainless) need some modifications.
and the audio all jbl: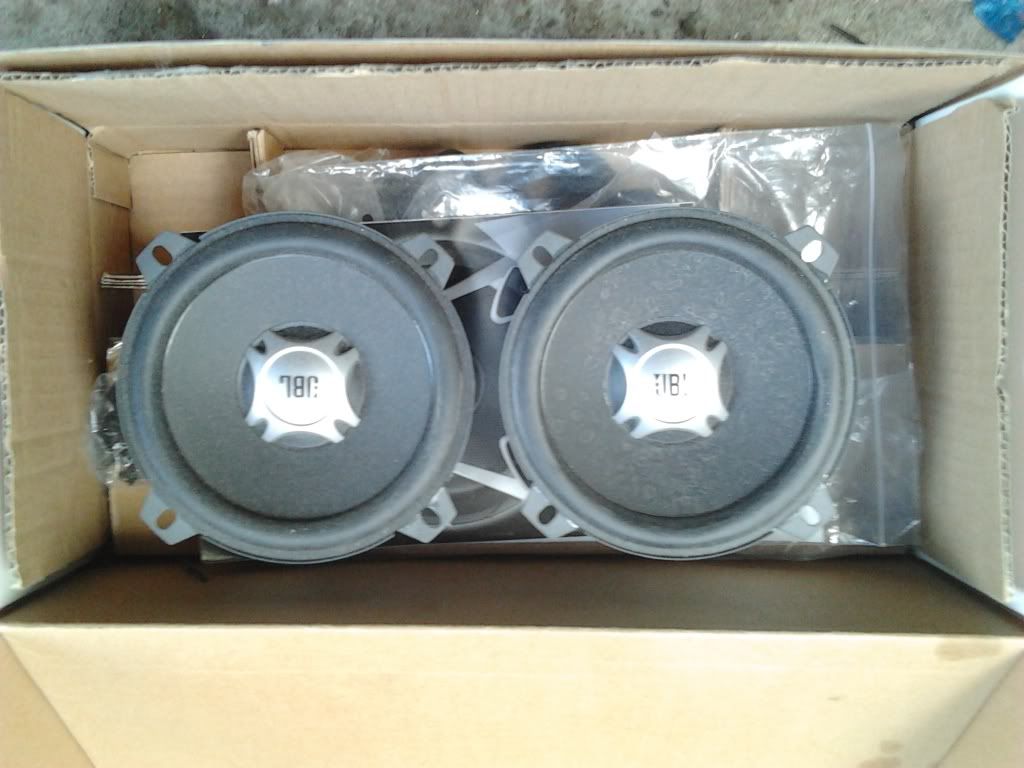 the tweeters installed in the b-pillar panels: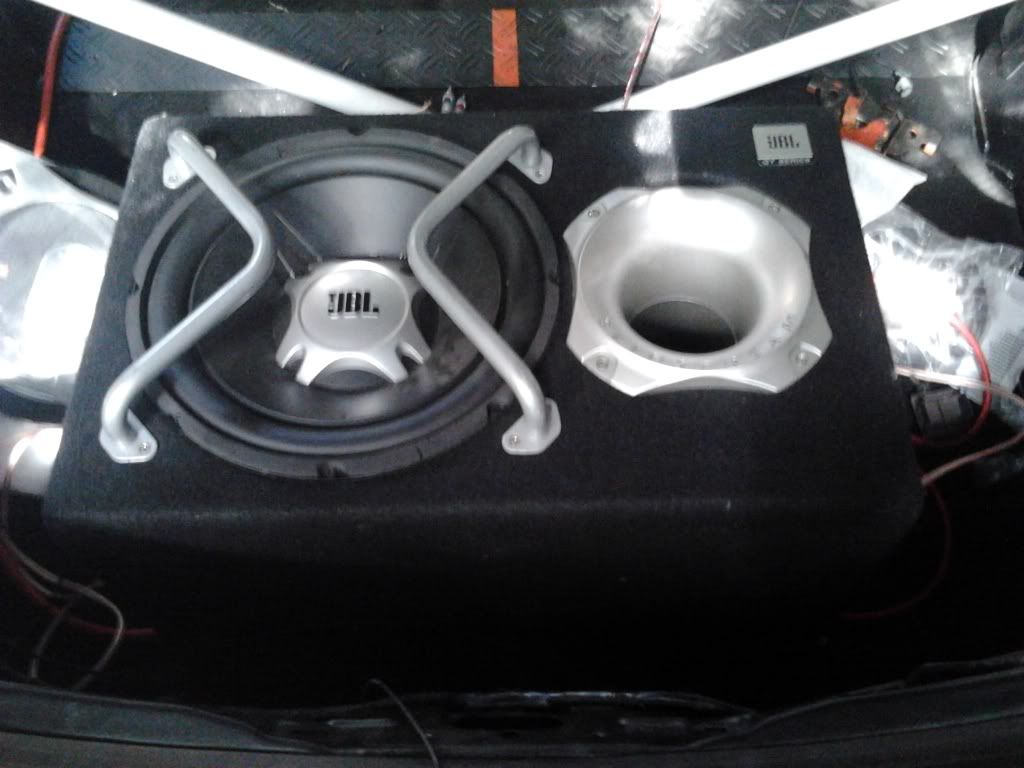 and the colt project, hoodpins:
started with the rollcage
hope you like it
Marijn
Thread
Thread Starter
Forum
Replies
Last Post
General Car Related Discussion.
Pictures, video & Photoshop Forum
General Car Related Discussion.